Just because we can waffle anything, does that mean we should waffle everything? Yeah, fuck it, why not?
I bought a waffle maker for $19.99 at Target. That's cheaper than any knife I own, 90% of the pans in my cupboard, and about one-tenth, the price of my awesome sous vide machine that I only use when I want to impress people. Which is deceptively often, but you see what I'm saying. A sub-$20 investment has been the sole stalwart in my cooking arsenal, and so should you.
Why? Because waffles are infinitely memetic. All the cool, trendy things we like to eat today revolve around basic recognizable forms. Fried batons covered in wet stuff are called poutine, starch covered in red and cheese is called pizza, pulverized discs of animal parts encased in hand-held wheat products are called hamburgers, and so forth. They can each be manipulated within simple confines and still be recognized as their meme. For reference, see ramen burgers and that wretched creation of the most self-loathing person on earth (surprisingly not me), the cauliflower crust pizza.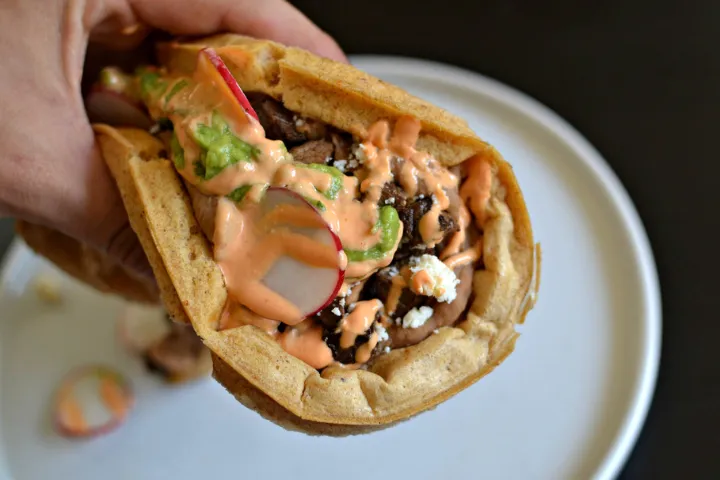 The simple pattern created by a waffle maker instantly transforms any foodstuff into a meme, thus raising its value. So, let's break down the carne asada taco. We got grilled meats, cheese, guac, salsa, and radish—but instead of using a boring untextured tortilla, make a waffle using a bunch of Mexican beer and probably-toxic chile y Limon seasoning. This is my fourth installation of the beef breakfast series with Foodbeast and Beef.