If you're into fried foods, have you ever thought about how unhealthy it is for you because of the fat content?
Wait, we aren't telling you to cut down on such foods because we can't either!
Instead of spending on a gallon of oil for deep-frying, think about looking for a healthier alternative- an air fryer!
An air fryer works by circulating hot air around foods to deliver a crispy texture, which would otherwise be obtained by deep-frying. The amount of fat is relatively lower in air-fried foods as the appliance requires very little or no oil.
Now, if you are on the fence about buying an air-fryer, we recommend you go for a Ninja air-fryer as the brand offers attractive features at affordable prices.
Keep reading because the best ninja air fryer is waiting for you!
Best Ninja Air Fryer Reviews
Ninja Foodi 5-in-1 Indoor Electric Countertop Grill with Air Fryer
Besides air frying, if you also want to do some grilling, then you can take a look at this 5-in-1 electric grill with air fryer.
This versatile appliance lets you perform five functions- air fry, grill, roast, bake, and dehydrate. Instead of using an oven, you can comfortably cook delicious meals in one place!
Starting with the grill grate, it is non-stick, and it lets you place four 8-ounce burgers or four 7-ounce chicken breasts. With the Cyclonic Grilling technology, hot air gets evenly distributed throughout the food so that the food turns juicy on the inside and char-grilled on the outside.
Grilling generally involves smoke distribution throughout the operating environment. However, with this appliance, you don't have to worry about it since it comes with a splatter shield.
While the 4-quart basket allows you to air fry foods, such as fries and chicken wings, the 6-quart pot lets you roast meat up to 3 pounds. You can even bake your favorite pie or dehydrate fruits without a problem!
Even if you are in a hurry and need to prepare frozen foods, you can put them into the air fryer directly instead of thawing.
Ninja offers easy controls in its air fryers, so instead of knobs, you will find a range of buttons for selecting cooking functions and adjusting the time and temperature.
Highlighted Features
Features air fry, grill, roast, bake, and dehydrate functions
It uses Cyclonic Grilling technology
Reduces smoke and splatters
Ensures char-grilled flavors
The grill grate is non-stick
Ninja Foodi 9-in-1 Deluxe XL Pressure Cooker & Air Fryer
If you are looking for a bigger size for your family or guests, then no doubt this 9-in-1 Deluxe XL pressure cooker and air fryer is the right one.
Other than air fry, it comes with eight more functions- pressure cook, steam, broil, slow cook, bake/roast, saute/sear, yogurt, and dehydrate. Whatever you want to do with this appliance, you can always expect fully cooked, delicious meals in a short time!
The cooking pot is non-stick, and it allows you to prepare meals for up to 10 people. Plus, it comes with a reversible rack on which you can place salmon and up to eight chicken breasts for cooking at once. Even if you want to steam vegetables, you can place them on the lower rack and remove the upper one.
For air frying, you have the 5-quart non-stick basket with which you can fry up to four pounds of French fries. It is also large enough to roast or fry a whole chicken weighing up to 7 pounds. If you're worried about cleaning the basket, you don't need to because it is dishwasher-safe!
What's more, the appliance uses TenderCrisp technology, so you can always have juicy and crispy meals.
Highlighted Features
Features 9 functions
It uses TenderCrisp technology
The pot can accommodate meals for up to 10 people
The basket holds fries up to 4 pounds
Comes with a reversible rack
Ninja Foodi 6-in-1 2-Basket Air Fryer
This 6-in-1 air fryer has six different functions that you can use to cook two different foods at the same time. It allows you to air fry, air broil, bake, roast, dehydrate, and reheat foods.
Instead of a single basket, it comes with two individual 4-quart baskets in which you can prepare foods, like vegetables and chicken using different functions at once! Not only it saves time for cooking large batches, but also it ensures the food is fully cooked.
When you are air frying your favorite snacks, you can use the crisper plates because they distribute crispiness evenly throughout the food.
What you will like about this guy is that it has two independent cyclonic fans and heaters which allow you to control the settings of each basket. Even if you want both foods to be prepared at the same time or want them to have the same temperature setting, you can do it with the press of a button!
The temperature ranges between 105°F and 450°F, which is enough for cooking your desired meal. Whichever temperature setting you select, that will be displayed for each basket.
Like most Ninja air fryers, this one also allows you to clean the baskets and the crisper plates in the dishwasher.
Highlighted Features
Features two baskets
It has 6 customizable functions
Can be used to cook different foods at once
The settings can be customized for each basket
The baskets and the crisper plates are dishwasher-safe
Ninja Foodi 7-in-1 Pressure Cooker & Air Fryer
This is another great combination of a pressure cooker and an air fryer that eliminates the hassle of using separate appliances.
Like most Ninja air fryers, this one also has multiple functions. It allows you to perform seven different tasks- air fry, pressure cook, slow cook, bake/roast, yogurt, steam, and saute/sear.
The pot has a capacity of 5-quart in which you can roast a whole chicken, cook casserole, or boil stew. Since it is non-stick, you don't have to worry about the ingredients sticking on the bottom.
The Cook & Crisp basket is also non-stick, and it has a capacity of 3-quart, which is enough to fry 2 pounds of French fries or 4-pounds of chicken. With TenderCrisp technology, you will be able to prepare crispy meals with a golden-brown finish!
Even if you have forgotten to take out those packets of chicken nuggets from the freezer, you can directly put them into the basket for defrosting and frying at the same time.
When you are pressure cooking with this appliance, you can rest assured that it will quickly tenderize the meat and lock its flavor.
What's more, this appliance includes a book containing 15 mouth-watering recipes that you can try out anytime!
Highlighted Features
It has 7 functions
It uses TenderCrisp technology
The Cook & Crisp basket is dishwasher-safe
The pot and the basket are non-stick
Includes a recipe book
Ninja Foodi 8-in-1 Digital Air Fry Oven
If you don't have an oven but would like to have one with an air fry function, then this is for you!
This 8-in-1 digital air fry oven lets you do more than just baking and air frying- air roast, air broil, toast, bagel, dehydrate, and warm. This compact oven can be your great companion whenever you need to get things done quickly!
If you love pizza and want to bake one, you can do it easily with this oven as it comes with a 13"x13" sheet pan, which can accommodate a 13-inch pizza! Other than that, you can toast up to 9 slices of bread or roast 6 to 8 ounces of 6 chicken breasts. When you're cooking family-sized meals, it will take only 20 minutes!
Unlike traditional ovens, this one has a special feature- it can be flipped up! So, when you're not using the oven, you can flip it up and store it away to save the counter space.
Cleaning is a breeze when you have this oven. After you've done preparing meals of your choice, simply remove the crumb tray and clean it for the next use. For cleaning the interior, you can flip the oven up, open the back panel, and then start cleaning.
Highlighted Features
It has 8 functions
Features a 13"x13" sheet pan
Can be flipped up for easy storage
It has a removable back panel
It has a removable crumb tray
Ninja Air Fryer Buying Guide
Capacity
The first and foremost factor to consider is the air fryer's capacity, as it greatly depends on how much you are going to cook.
For example, if you have a small family or if you are cooking for yourself, then you can go for an air fryer having a capacity of 3-quart.
If you have a family consisting of more than four members, then a 6.5-quart to 8-quart will work best. You can also choose an air fryer having the same capacity if you are going to cook for parties or other occasions.
Ninja air fryers come with capacities ranging between 4-quart and 8-quart. With a 4-quart air fryer, you can fry up to 2 pounds of fries, whereas an 8-quart air fryer lets you fry as much as 4 pounds of fries. Some models even have two individual baskets in which you can fry two kinds of foods at once.
Size
Size is another crucial factor to consider when you are buying the best ninja air fryer.
Air fryers come in different sizes, so before you purchase one, it's a good idea to measure the dimensions of your kitchen countertop so that the air fryer can fit perfectly.
Also, be sure to measure the distance between the countertop and under the cabinets so that you can safely place the air fryer when you're not using it. Placing the air fryer or other electrical appliances not only promotes proper ventilation but also protects them.
Functions
Some Ninja air-fryers also double as a pressure cooker or a toaster oven with which you can steam, broil, bake, slow cook, dehydrate, and a lot more! While this gives you versatility, you can also keep your counter space clutter-free.
So, if you want more than just air-frying, you need to look for the one that performs what you want it to perform, because you wouldn't like the idea of getting another!
Cleaning And Maintenance
After all the cooking, cleaning shouldn't be a hassle when you are using the right kind of appliance.
Thankfully, the components of Ninja air fryers are easy to clean, and most of them are even dishwasher-safe. If there's a food residue stuck on a component, you can easily remove it with a damp cloth, or with warm, soapy water, and then dry it with a towel.
If you want to get the most out of your air fryer, proper cleaning after each use is essential.
Frequently Asked Questions (FAQ)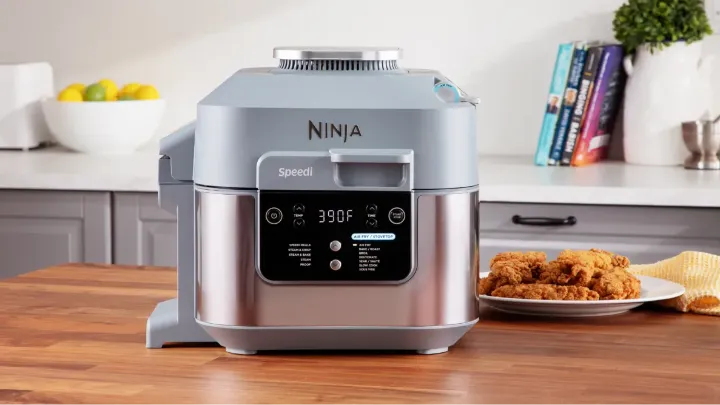 Which Is The Best Ninja Airfryer To Buy?
The 4-quart Ninja Air Fryer is one of the most premium models of Ninja Air Fryers in the current market. It comes with the capability to not only air fry, but to roast, reheat, and even dehydrate!
Is The Ninja Air Fryer Any Good?
Choosing the perfect Ninja Air Fryer is never a simple task as every model is spectacular than the next. With versatile cooking options, affordable price, ease of use, compact design, superb performance, etc., and more, Ninja Air Fryers are a winner of a device indeed!
Which Airfryer Is Easiest To Clean?
TheNinja DZ201 Foodi 6-in-1 2-Basket Air Fryer is one of the easiest models to clean up as it is dishwasher safe. Hence, your life is made a whole lot easier since you can skip the hassle of manual washing up.
What Is The Largest Ninja Air Fryer?
With a 5.5-quart capacity, the Ninja Max XL Air Fryer is the largest Ninja Air Fryer with a single frying basket. If you're looking for an even bigger capacity with dual frying baskets, the  Ninja DZ201 Foodi 6-in-1 2-Basket Air Fryer is worth pursuing due to its 8-quart capacity.
Final Words
Nowadays, many people are leaning towards air fryers because of the crispy, yet fat-free food it offers. While you can enjoy the similar taste of deep-fried foods, you can also keep yourself healthy. And whatnot, you get to save a few dollars from your wallet!
We know what you need, so we have researched one of the finest air fryer brands in the market. Our list of Ninja air fryers contains those products that we believe will make a comfortable place on your kitchen countertop.
So, if you have found the best ninja air fryer, we hope you remain content with it.